NRFS, the platform for collective journey towards MSME sustainability in India and Asia
NRFS, the collective journey towards MSME sustainability in India and Asia
Nature Responsive Finance for Sustainability or NRFS (NRMS earlier) is a technology based solution to connect people with information and capacity to adopt sustainable MSME practices. NRFS is a solution that addresses the actual need of the people across MSME, which is a vast ecosystem of 7.9 million registered MSMEs in India.
NRFS connect people with technology and through technology. The evolution of this innovative tech- based solution is supported and mentored by Siemens Financial Services, as a part of global initiative to solve real-world sustainability challenges and shape the future along with Siemens.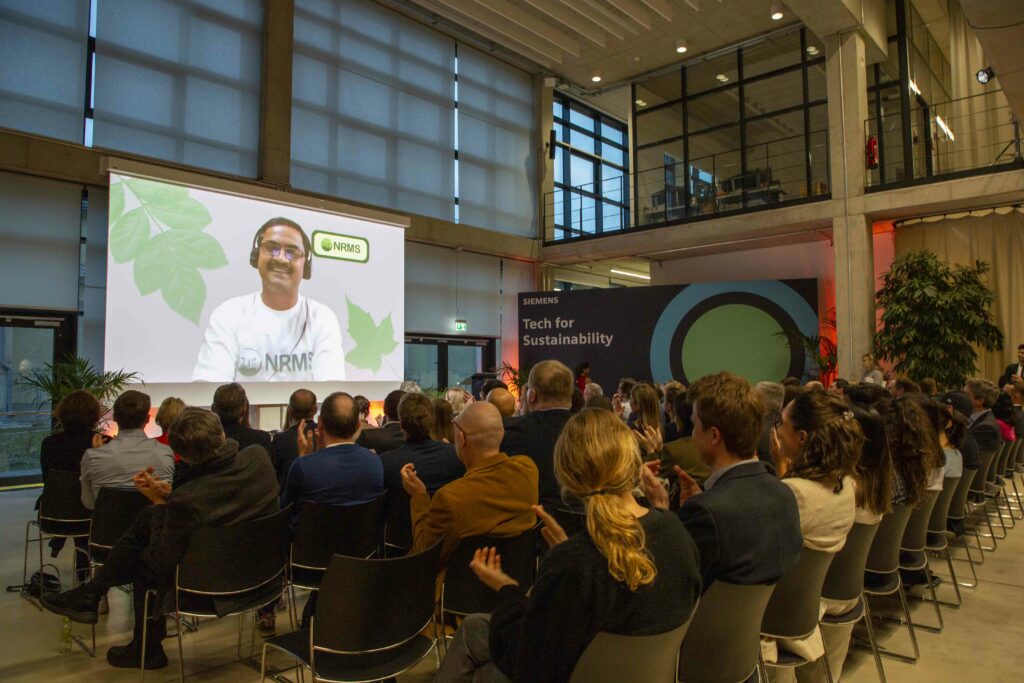 The concept and design of NRFS received the acclaim and support of being the winner of "Tech4Sustainability Challenge 2023" by Siemens, under the category of "Financing Growth Sustainably". Markzin, being a youth- led and technology based Startup company from India considers it a great opportunity to materialize the vision of an inclusive and sustainable economy in India and in Asia.
Currently, we are at the level of launching NRFS across the MSME ecosystem in Maharashtra state of India. We are all ready with the technology solution as well as the information.
In order to commemorate the 76th Independence Day of India on August 15, 2023.
Please have a look at the video on the final presentation of NRFS at Tech4sustainability challenge on March 10, 2023
NRFS, the spirit of empowering MSMEs for adopting sustainable and responsible business
NRFS is a user-friendly app that utilizes AI and integrates Machine Learning, connecting individuals with technology and facilitating communication through technological means.
NRFS provides information and creates awareness among the vast ecosystem of MSME in India to help them adopt sustainable and responsible business practices.
In addition to provision of information, NRFS provides real time 'referral and hand holding support' to its user through "Toll Free Helpline" and regular follow up/ notification support on updates around MSME sustainability. Users can access 'Online Training' on various aspects of MSME sustainability, as per their requirement.
NRFS is technology solution to address actual need of the people (users) across the entire MSME ecosystem. Existing MSMEs, prospective or new entrepreneurs across the country are the 'Primary User' of NRMS. The other stakeholders as 'Chamber of Commerce & Industries', Government bodies and professional fraternities connected with MSME will participate in NRFS and use the App as a step towards attaining the common goal of "Net zero"!
The ultimate objective of NRFS is to make people understand the importance and incentives for being sustainable and responsible. As suggested by our field research, MSMEs require initial impetus of 'improved access to Finance and Technology' to continue with their sustainability journey, even after having adequate 'Information' on sustainability. NRFS addresses that requirement by providing information and connect with Finance and Technology solutions from Siemens, that act as a catalyst for transformation of MSMEs into sustainable and responsible business.
Online trainings on various aspects of MSME sustainability, technology and finance solutions for sustainability will be available for users. Training modules will be developed as per the actual training/ communication need of users, i.e. MSMEs in India. Local language will be used as the medium of communication.
Given the fact that the MVP version is launched in Maharashtra, NRFS is available in Marathi and English currently. As per our studies across the MSME clusters in India, a total of 5 Indian languages in addition to English can make it capable to communicate effectively across all MSME clusters and conglomerates in India.
Use of local language and provision of immediate referral support through AI Chatbot "Neha" and Toll-Free Helpline of "Neha" makes NRFS more inclusive. NRFS leverages the 'Power of Technology' to connect all the 'People' within the MSME ecosystem and utilizes the "Power of accurate and timely Information" to ensure adoption of sustainable and 'nature- responsive' sustainable MSME practices.
Existing as well as prospective entrepreneurs, that includes marginalized groups like women, youth from disadvantageous or remote locations will directly get immediate access to the information and capacity or finance and technology.
Use of local language in NRFS encourages and supports 'Financial Inclusion' of the people who are still outside the coverage of Finance support. NRFS presents information in different forms and formats, such as illustrations, excerpts, videos, and all in local language.
Social media and News section of NRFS connects MSMEs with a larger network and at the same time it keeps them updated on latest progress or best practices around MSME sustainability in India and beyond.
Currently we are finalizing the App design, functionalities, content and socio- economic target coverage. We are doing this in close coordination with Siemens team for adding 'People' to our collective vision of 'MSME sustainability' in India and in Asia.
We are in the process of launching the solution across all the 6 MSME zones in India to cover the entire MSME community at one go.
Please write to us for further information on NRFS.
Please join us in our collective journey towards MSME sustainability in India and Asia.